New ARM911 Networked Bell Controller

The ARM911 is now our standard solution for bell timer and tone playout on all of our Primary and High school wide PA systems. Fully accessible via any web browser on any computer anywhere in your school, you can now make changes to your bell schedules and upload any MP3 file to be played at any time you choose
In addition, the unit features ten individual MP3 Playback buttons. These are used for instant playback of evacuation, lock down and other messages stored on the internal SD card.
When you buy through PA Matthews Audio, you get a full set of messages and tones professionally prepared to comply with NSW DEC guidelines and fully labelled ready for use. The system is pre prepared in our workshops ready for direct connection to your existing data network. You can be up and running in no time, with no requirement for your IT staff to be on site.
Take a look at our "School wide PA" options for a full description of what the ARM911 can do!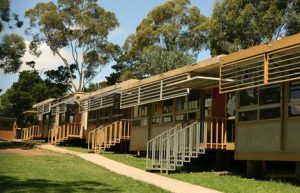 February is Portables Month!
In February each year, we reserve time for additions and alterations / upgrades for our existing customers. To ensure you get your new rooms connected promptly, please contact us as soon as possible (preferably by email). Send a map of your school showing where your new buildings are.
We will then refer to our records of your system and in most cases, issue a quote within 7 days for the work without having to visit your site. Please raise an LMBR order for this immediately and we'll put you in the queue to get your additional work done.
Work is scheduled with respect to the time we received your order and the number of other jobs waiting in your area. We will endeavour to have all minor additions completed within 30 days of your order.
New LMBR Payments System
now in use throughout NSW
The new LMBR Payments system is now in operation throughout all NSW Government schools. The department requirement for this new system is that no school may authorise expenditure without first issuing an order number for the expenditure.
As a result, all work requested of us (excluding quotes or warranty work) must now be accompanied by an LMBR order number. If you want us to attend your school to take a look at something but we don't yet know how much it will cost, you will be required to issue an order number for our standard service call charge, which is $115 + GST.
If we later find the service call is covered under warranty, the order can then be cancelled. If the price is varied then you can issue a "change order" in the LMBR system once the final invoice is issued.
Please do NOT ask us to authorise a truck roll without an order number as we will not. It is in everyone's best interest to do the right thing as tracing payments without an order number in the new system creates major headaches not just for us but also the school.